'CLOUD RAIDER' VOX TIER III
The long-awaited end to 'Cloud Raider' Vox's skin series comes with all-new tech to match his rebuilt look!
---
WATCH TIER III VOX IN ACTION
Throws sonic discs for his basic attacks
Leaves a digital trail behind during his dash
Makes tech pulses everywhere
Brand-new sine wave ultimate attack!
---
'CLOUD RAIDER' VOX TIER II & III LORE (EXCERPT)
by SugarVenom

With a roar of engines and propellers and the snap of sails, the Star Queen's navy of airships rose like dark moons over the gates of Mont Lille. Captain Vox stood on the deck of The Audacity, a grin spread across his face. Loo the sprite stood atop his head in an epic battle pose, holding a lock of his hair in one little fist, a tiny saber in the other. …
Check in-game NEWS > HERO LORE to find lore for all Update 1.17's skins. The complete Cloud Raider Vox lore and more will be rolling out periodically between now and 1.17's release.
RELATED LORE: 'RISE OF THE STAR QUEEN' SERIES
I. Cloud Raider Vox Tier I
II. Stormlord Ardan Tier I
III. Paragon Catherine Tier I
IV. Paragon Catherine Tier II
V. Paragon Catherine: 'The Intercepted Message'
VI. Paragon Catherine: 'The Queen's Army'
VII. Star Queen Celeste Tier I
VIII. Star Queen Celeste Tier II
IX. Stormlord Ardan Tiers II & III
X. Paragon Catherine: 'Conspiracy Of Ravens'
XI. Paragon Catherine Tier III
XII. Paragon Catherine: 'The Pyre'
---
INTERVIEW WITH SUPER EVIL ARTIST JUSTINSANE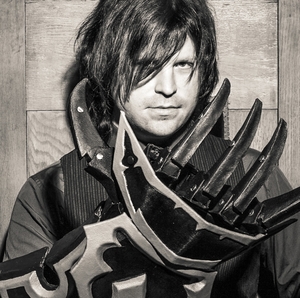 "At first, I wanted Cloud Raider Vox Tier III to have a peg leg, but he wouldn't have looked right when he moved. Sometimes, drawing variations leads me on a huge journey and I come up with something ridiculously awesome. I thought, what if he had lots of missing limbs? Maybe he was wrecked by something huge or lost a battle. Maybe he wanted to be faster, or do things a normal human can't do; maybe he wanted to amplify his powers even further, and his body didn't live up to his hopes and dreams. I am fascinated by synthetic joints for amputees so this idea was fun as hell to design.
"I wanted totally futuristic, robotic, transforming arms with exposed, synthetic robot muscles. I moved the pack from his side to his back to give his arms a higher range of motion. This halo battery projects the power that he uses and makes him the turntable. The discs on his hips shoot out shockwaves of sound, a heavier dose of music and vibrations. Now he's the most badass DJ in the universe."
---
Keep an eye on the in-game NEWS section for more update 1.17 reveals!